This website is best viewed in portrait mode.
Vishwanath Mallabadi Davangere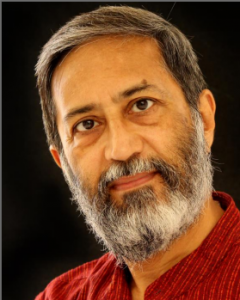 Vishwanath Davangere Mallabadi was born in Chitradurga, Karnataka, India. He inherited a priceless legacy. By age 18, he had developed obvious skills as an artist and reinforced his skills on completing his professional degree in B.F.A. in Applied Art from College of Art in New Delhi.
He used to explore second hand trash objects and try to convert them into worthy objects. He started exploring new art forms within e-waste. His philosophy and rationale towards creating something extraordinary is by doing fusion between creativity and technology. He always enforced his acquired technical knowledge and blend with his artistic skills. He thus blended Creativity with Modernity and forms.
The creation process seeks serendipity and aesthetics. He tries to bring in the creative vision to discarded e-waste and add higher environmental value than it had in its original state. Upcycling is a key concept to add value to junk e-waste. He has created many unconventional and iconic designs out of e-waste.
He tries to interconnect distinctive e-waste pieces into a coherent composition, improvise with different forms and keep working until he satisfied with the results. He enjoys discovering what he is creating while he is doing it and he have an irresistible urge. He practices keeping an open mind to the subconscious and like to be surprised by the outcome of his work.
Ongoing Digital Show: ARTEM FUSION (Feb 2021)