Date

08 Nov to 21 Nov, 2022

Time

11am - 8pm

Location

Sublime Galleria, 8th Floor, Vittal Mallya Road, Bangalore – 560 001

Artist

Aparna Rajapandian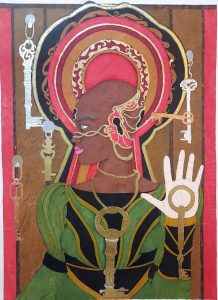 Concept Note
When life left me bereft of an identity, I turned to a forgotten skill , one that I had always overlooked and given the least importance to. If every failure I've lived through, had to led me to this decision then the universe had indeed conspired in my favors. Art now, is my everyday. I wake up looking forward to create. All my life I have been haunted by visuals strange fascinating worlds, faces and creatures. I have never paid them much heed but now art has made me take notice of them, study them at closer quarters than I have before and bring them to life. Art to me is cathartic, I find in it a conduit of expression that is all encompassing. Women and animals often people my work as I am inspired by the empathy I feel towards them. Inspiration as such comes from everything around me, from subtlety to the blatantly in your face obvious, from beauty and the beastly. I am slowly beginning to believe in the artist in me and that belief has me curious and excited about the future. Art is creation and playing creator enlightening and empowering.

Know my medium… Polychromos artists' colour pencils are valued for their matchless quality by professional artists around the world. They are oil based pencils allowing them to blend with solvents, like turpentine or white spirit in a similar way to how you would blend oil paints.  Polychromos artists' color pencils have maximum light-fastness (resistance to fading when exposed to light), the most vivid colors (highly pigmented) and optimal paint ability. The other medium used in my work is a combination of Faber Castells Pitt Brush Pens, Copic Markers and Pigma Micron Pens (used as base layers). A couple of works are made with soft pastels and oil pastels. Know my paper… Strathmore 300 and 400 series (Bristol smooth and Vellum-fine grain/medium grain) papers are archival, acid free and manufactured with cotton fiber for enhanced surface durability and exceptional results. Perfect for professional artists.

Aparna Rajapandian is a science graduate who has worked with NGOs teaching children Science, English and Mathematics. She is a self-taught artist whose works are figurative, mostly revolving around the female energy in all its forms- be it allusions to nature, the feminine spirit or physicality. Every art work of hers includes a verbal expression describing the inspiration or the story of the piece. Her work has been on display at The Village Market (JW Marriot), The Night Market (Taj West End): Courtesy Swasti, The Contemporary Art Gallery. Her work has been on display at DYU Art Cafe.

She has been featured in two international art magazines – Marvelous Art Gallery (online) and Art Magazineium (online/print) where she was also featured as their cover artist. She is also a published author/poet with Manda Publications and The Write Order. She is the illustrator of a children's book "Percy Hears the Secret" published by Balboa Press, Hay House, US.